DIRECT PRINTING (RAW PRINT) TO ELUX RL
WITH ELUX RL ( AND NG ) YOU CAN PRINT DIRECT TO THE TERMINAL WITH RAW  PRINT ( BYPASSING LPD SPOOLING)
Insted of spooling print with lpd print, you can use direct print to the terminal an gain 100% direct control of the terminals serial, parallel or USB printer ports.
In Scout you have access to the first parallel port and the first USB port, but what if you have serials and USB's connected?
This is often used in "Point of sale"  scenarios or having a remote "print box with VPN"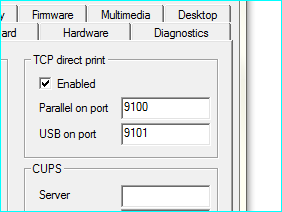 As you can see there are only two entries in Scout, so what can you do when you have more devices connected? The secret is to transfer information throug advanced file entries in Scout. Advanced file entries enable administrators to modify .ini files(or setup in a OU) with Section, keyword and value like this.
To define direct print in com ports  you need to configure some port parameters use /setup/terminal.ini section:

[Printd]

…

port_com1=9102

port_com2=9103

you can also use any other port numbers. All other values are set by setup and you do not change these.

Comport settings eq. speed … are set in setup unter hardware com ports.
You will need to enter something like this :(notise important to not use [] , in you entry of section )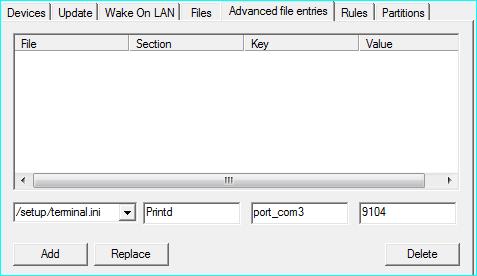 resulting in a entry like this:

now just go configure you windows server with raw print, using the IP address or name of terminal and the coresponding port.